A perpetual commitment
In our ongoing commitment to environmental preservation and the establishment of a more sustainable playing environment, we are embarking upon a flora transformation project across our course.
In this context, this endeavor will contribute to the establishment of a more efficient water management system. This encompasses the implementation of intelligent irrigation systems that optimize water usage based on the actual needs of the plants.
Learn more
A number of golf courses in the region have expressed interest in converting their flora.
Several golf courses within the region have shown interest in embarking on a flora transformation. This process, also known as flora inversion, entails altering the composition of the turf. This approach is primarily applied to fairways and teeing grounds, which collectively comprise an average of 20% of the golf course's total area.
Presently, the presence of the Poa grass, a member of the grass family, disrupts the overall vegetative mat on the greens.Flora inversion involves adjusting the ratio of grass species present on the green by replacing Poa grass with various species of bentgrass and other herbaceous plants. The issue with Poa grass lies in its high water and fertilizer requirements, as well as its susceptibility to diseases. This is an exceptionally delicate species that demands ongoing maintenance, particularly during the summer months when intensive watering is necessary.
A golf green must adhere to precise gameplay imperatives, providing players with a consistent putting surface characterized by optimal speed and roll. Without a doubt, bentgrasses or fine fescues are the ideal species for golf greens.
The transformation of flora is firmly embedded within a modern, sustainable, integrated, and thoughtful approach to managing grassed surfaces. Projects focused on flora conversion have been in existence for several years, contributing to the development of maintenance techniques for the future.
The primary benefit of these transformations lies in the reduction of irrigation needs. Therefore, Golf de la Grande Bastide is committed to the flora transformation of its playing surfaces, starting with the fairways, which consume the most water and constitute priority playing areas crucial for maintaining economic attractiveness.
These techniques have been mastered for decades on courses abroad, including in regions such as the Maghreb, Spain, and the United States. In France, as the majority of golf courses were created without concerns or issues regarding resource availability, only a few golf courses have integrated grass species into their designs.
In recent years, and in response to the evolving climate, the Resonance Golf Collection Group has undertaken and scheduled the transformation you will discover below, with the aim of reducing water consumption by at least 35%. For the introduction of Cynodon dactylon "Bermuda," several techniques will be employed, such as propagation through cuttings or seeding.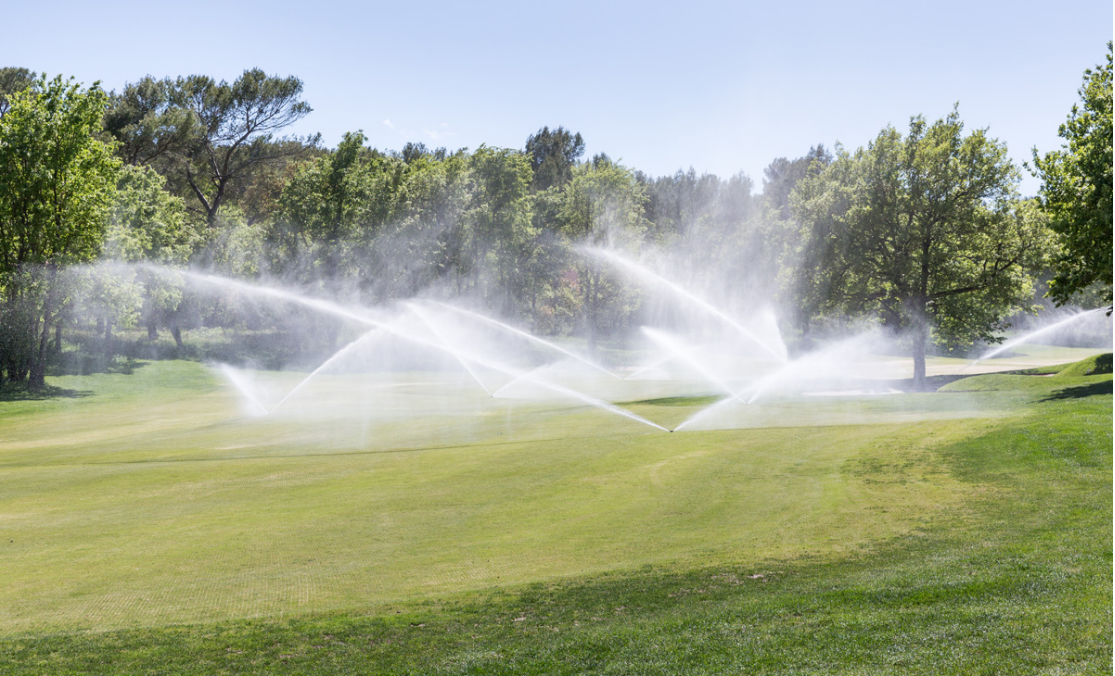 Specific conditions must be met to ensure successful implementation:
Elevated soil temperature (starting at 16°C), warmth, minimal temperature fluctuation between day and night, ample brightness, and sufficient water for initial establishment.
As this Cynodon colonizes, water quantities must be drastically reduced, ultimately leading to a "cruise mode" where water is consumed modestly across these substantial areas.
An additional virtue of this grass lies in its ability to withstand extreme water scarcity, as it will enter a stress mode without reaching mortality. The turf can regenerate with the onset of natural watering. Presently, golf courses possess vegetative turf that suffered from burning in 2022, necessitating increased water consumption in adherence to regulations. However, flora conversion will precisely enable the maintenance of an economically viable sector and, more importantly, ensure sustainable reduction in withdrawals from the natural environment.